bhutan
As majestic as it is notoriously mysterious, Bhutan is only slowly opening up to foreign visitors, and remains enticingly devoid of the trappings of tourism. Geographically, Bhutan descends from the highest Himalaya. To the north lies Tibet while to the west, south and east sits India. Each of these valleys has a scenic beauty that is unique. Your bespoke itinerary may include staying in different lodges spread across these five different valleys – including Paro, Thimphu, Gangtey, Punakha and Bumthang – offering an insider's perspective to the world's last surviving Buddhist kingdom.

bhutan highlights
At Bespoke Travel Design, we specialize in crafting private and tailor journeys. Below you will find a few of our favorite highlights that can feature in your bespoke Bhutan itinerary.
• The experiences in Bhutan include a range of cultural, active and spiritual experiences.
• Visit ancient fortress monasteries, remote villages in stunning countryside, and museums, For the more active traveler, enjoy white-water rafting, hiking, mountain-biking and yoga.
• Embark on a multitude of cultural and spiritual experiences, including the unforgettable experience of the 108 butter lamp offering at Taktsang Monastery.
• Hiking and cycling are arguable the best ways to explore the incredible landscape. We will customize the activities to your comfort level offering an extensive list of options and routes.
• Climb the twisting steps of the legendary Tiger's nest Monastery, impossible perched 3,000 feet above the valley floor. Experiences such as blessings, meditation and white-water rafting can be arranged on a chargeable basis.
• Travel to Thimphu, Bhutan's temple-dotted capital, meeting monks in impressive monasteries.
when to GO
 Feb – June; and Sept – Nov.  Avoid the monsoons from June to August.

timeframe
7 nights to 2 weeks. You're in the Himalayas, so you'll need the first few days to take it slow and acclimatize.

hotels we love
Nothing but the best. Browse the hotels that can feature in your bespoke Bhutan itinerary.
amankora thimphu
Set in the upper reaches of the Motithang area, Amankora Thimphu is built in the style of a traditional dzong fortress. Within reach of the capital's shops and sights, the lodge remains a secluded retreat from which to explore all the city has to offer. Visit the hotel website.
amankora paro
At an elevation of 2,250 metres, Paro Valley makes a beguiling start or an atmospheric end to an Amankora journey. Hidden in thick pine the 24-suites, with walls clad in wood and black steel panelling, contrast rustic elements with contemporary design. View hotel website.
gangtey lodge
In the little-visited Phobjikha Valley near the village of Gangtey, the eight-Suite Amankora Gangtey is set on a forested knoll with scenic views of the valley floor and the Gangtey Goemba monastery. Part of the Black Mountains National Park wildlife reserve, the valley is home each winter to a flock of endangered black-neck cranes. Suite interiors offer a view across the valley.
amankora punakha
Reached by crossing a suspension bridge over the Mo Chhu River covered in prayer flags, Punakha Lodge incorporates a traditional Bhutanese farmhouse built by a former Je Khenpo (chief abbot of Bhutan). Located in a subtropical valley that produces most of the nation's vegetables, the area is where the Bhutanese royals spend their winters. Visit the hotel website.
bumthang lodge
Bumthang, directly translating as 'beautiful field', is home to 29 temples and monasteries, including the ancient Jambay Lhakhang, and is a treasure-trove of Bhutan's art and painting traditions. Amankora Bumthang rests adjacent to the Wandichholing Palace, within the town of Jakar in the Choekhor Valley.
six senses bhutan
Six Senses Bhutan is a collection of five boutique lodges, each with its own character, environment and experiences. Located in Paro, Thimphu, Punakha, Gangty and Bumthang, all within the amazing Himalayan Kingdom of Bhutan. Visit the hotel website.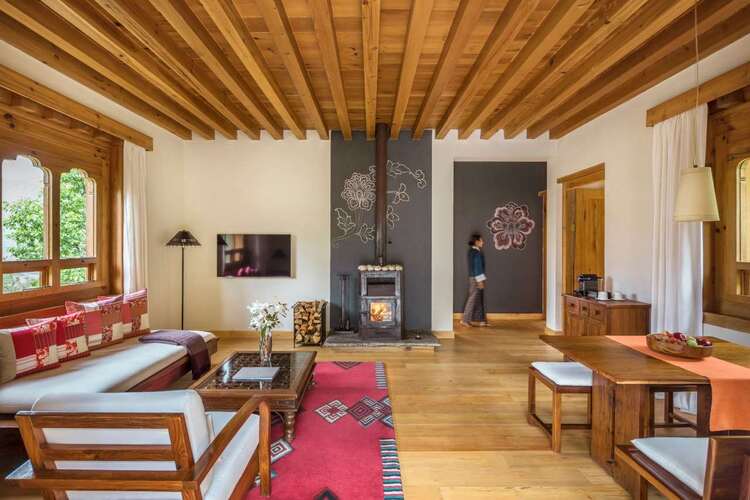 como uma paro
COMO Uma Paro, is an intimate, 29-room resort featuring the most exclusive private villas in Bhutan with an enviable location in the Paro Valley. The style combines local artisanship with COMO's contemporary style, while activities range from customized hiking, biking, overnight camping adventures, yoga to Himalayan adventures. Visit the hotel website.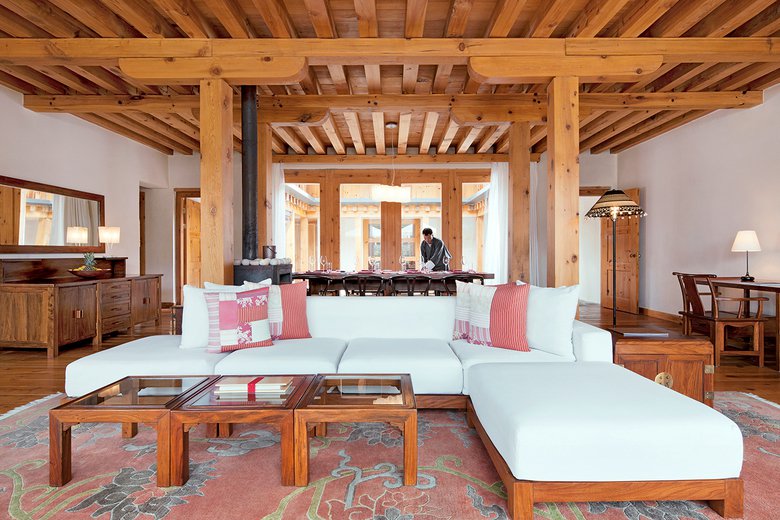 como uma punakha
Como's second hotel in Bhutan, COMO Uma Punakha is an intimate, luxury lodge located at the far western end of the lush Punahkha Valley. This 11-room hideaway offers views of terraced rice fields and snowcapped Himalayan peaks and is ideally located for those who wish to explore this remote Himalayan Kingdom. Visit the hotel website.
featured destination
gangtey lodge, amankora, Bhutan

Looking to extend your trip?

For the ultimate trip to relax and recharge, how about combining Bhutan & India on the ultimate spiritual escape! On this customized journey, you can join local monks for daily prayers and blessings in Bhutan before hopping across the border to get ahead of the crowds and visit the Taj Mahal at sunrise, and find peace in the Himalayan foothills at a world-class wellness retreat. Get in touch, to find out more.

india
There are few places on earth like India. An explosion of colors, sounds and contrasts. The irony of an elephant traffic jam, contrasting with the opulence of the palaces and forts, its energy is undeniably contagious. Read More  >
sri lanka
The teardrop shaped island of Sri Lanka lies in the Indian Ocean just off the southern tip of India. With its golden sandy beaches, azure blue waters and warm tropical climate, Sri Lanka is a year round destinations for travelers seeking sun, sand and sea. Read More  >
Contemporary Cambodia is often overlooked and overshadowed by its neighbors, but despite that it's an unsung hero of Southeast Asia. Cambodia features hard living, welcoming and fun people, a mesmerizing topography and the famous ruins of Angkor – Read More  >