nicaragua
Although Costa Rica, its neighbour to the south, has long been a bustling tourist destination, Nicaragua has only recently come into its own. It has the largest area of primary-growth rainforest north of the Amazon, six active volcanoes and 55 miles of coastline dotted with sandy beaches and sleepy surf town. Add to this, picturesque colonial town — like Granada and Leon — with pastel-painted churches and vibrant local festivals.

Nicaragua HIGHLIGHTS
• Visit the Miralor Nature Reserve to immerse yourself in native flora and fauna.
• Take a volcanic trek and go volcano-boarding on the black sand slopes of Cerro Negro.
• Go snorkeling off the Corn Islands Pearl keys.
• Ride a horse on the beach.
• Take a ferry ride from Granada on Lake Nicaragua to Ometepe Island and Las Isletas two of the 360 islets in Lake Nicaragua.
• Catch a wave off the coast of San Juan del Sur.
• Admire the colonial architecture in Grenada.
• Watch turtles nesting at night (from July to October).
• Combine rainforest, volcanoes and beaches as you explore the highlights of this diverse country.
• Enjoy active excursions and rainforest wildlife treks.
• Explore Lake Nicaragua and the local culture.
• Activities include: canopy tours, kayaking trips, city tours, sand-boarding and Mombacho volcano.
BEST TIME TO GO
 Best time to go is November through May.

IDEAL LENGTH
We recommend spending a week to 10 days, and adding a stop in Costa Rica if you want to extend your trip.

FLIGHTS
The main hubs to fly through are Miami and Houston, where you will then connect to Managua (MGA), the capital city.

HOTELS WE LOVE

Nothing but the best. Browse the list below for a taste of the hotels that may feature in your bespoke Nicaragua itinerary.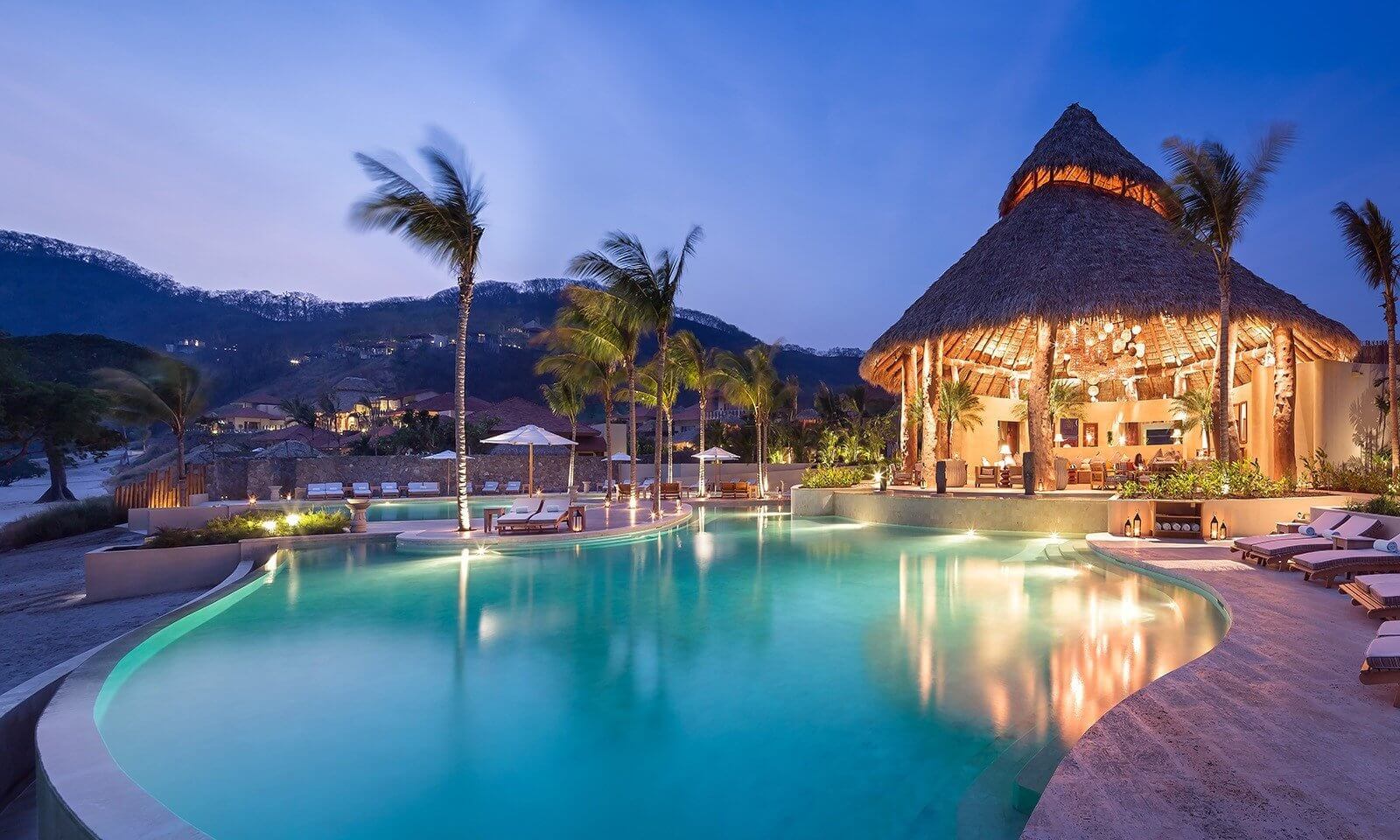 MUKUL RESORT
Perched on the raw, wild cliff overlooking the Pacific, Mukul brings a dose of open-air luxury to this quiet stretch of Nicaragua's coastline. There are twelve beachside villas and twenty-three treehouse-like bohios, on the property— both styles do a great job of bringing the outdoors in. If you really want to spread out, the six-bedroom, 20,000-square foot Casona Don Carlos can be booked when the resort owners family isn't in residence. The spa is top-notch with its Turkish baths and Indonesian massages. Dining options range from canopy dining on the beach to fine dining at La Mesa.
Jicaro island Lodge
Beneath the shadow of the Mombacho Volcano, on a secluded island within Lake Nicaragua's Las Isletas de Granada lies Jicaro Island Lodge, Nicaragua's most exclusive nature resort. Though only 20min from Granada by boat and car, Jicaro Island feels a world away. Nine private 'treehouse' casitas overlook the water, open air plan with king canopy beds and private decks with oversized hammocks. Jicaro Island is the only property in Nicaragua to be included in the National Geographic Unique Lodges of the World collection. Honeymooners, adventurous travelers and wellness seekers are all well-catered to on Jicaro Island, both an excellent basecamp  to explore the culture and nature of Lake Nicaragua.
morgan's rock
Back-to-nature gets a bespoke update at Morgan's Rock. Comprising 4,000 lush acres — half of which are designated a protected reserve — this solar-powered jungle hideaway is highlighted by a mile-long stretch of beach, a sustainable farm (including shrimp) and a secluded cove that provides sanctuary to hatching sea turtles. Enjoy the bungalows, villas and Beach House made of reclaimed wood and bamboo, featuring plunge pools. Ride horses, go sportfishing or take a 4×4 safari to spot howler monkeys and macaws. An open-air yoga platform offers classes and in-depth retreats, and relaxation for body and spirit, at the spa at the beach. Visit the hotel website.
nekupe resort
Nekupe Sporting Resort and Retreat, Nicaragua's first luxury countryside resort, is an intimate 8-room property located on a 1,800-acre nature reserve. Offering a seamless confluence of sustainable nature-based design with Feng Shui influences, rich Nicaraguan culture and warm hospitality, the property effortlessly blends with the environment to nurture exploration, adventure and wellbeing. Nekupe, which means "heaven" in Chorotega – the indigenous language of a native tribe in Nicaragua, features four standalone villas, each with an open terrace and private staff, and the Main Residence. Resort amenities include one luxury ATV per guest room, a private spa and outdoor programming, a swimming pool, two tennis courts, and Casa Club, Nekupe's exclusive lobby lounge and communal gathering area. Set amidst a lush mountain landscape, guests will enjoy over 1800 acres of natural terrain ideal for an equal measure of active pursuits and wellbeing-oriented endeavors. Visit hotel website.
Looking to extend your trip?

Looking for an adrenaline rush on your vacation? Your private plane will land in the Pacuare forest where you will then proceed to the Pacuare Lodge, reachable by rafting down the river. You will both arrive and leave this lodge by raft, experiencing class-II and class-IV rapids. At the lodge, you will discover the forest by zip line through the canopy. Your guide will take you to an indigenous community where you will meet a local shaman, who will teach you about the people and their way of life. Your guide will act as an interpreter to understand the indigenous Cabecar language. On your final day, brave the class-IV rapids as you leave the lodge. This is the best place in Central America to do whitewater rafting and ideal for those seeking a more active experience.
Discover the cultural and natural gems of Tikal and the Belize Reef. The rich Mayan traditions of Guatemala and the excitement of the Belize barrier reef provide a harmonic and unforgettable experience.
Experience the myriad climates, people and cultures, from coastal Caribbean to the terraced green slopes of the Andes Mountains in Colombia. Whether horseback riding through coffee plantations, hiking through cloud and pine forests, or snorkeling in dazzling crystal clear waters, Colombia offers an array of unforgettable moments.