cambodia
Cambodia is often overlooked and overshadowed by its neighbors, but despite that it's an unsung hero of Southeast Asia. A country both blessed by and cursed with its past, Cambodia embodies the future of Asia with its youthful promise and entrepreneurial energy. The country features hard living, welcoming and fun people, a mesmerizing topography and the famous ruins of Angkor – more than an item on a bucket list, but truly something that needs to be experienced, understood and dwelt upon.

cambodia highlights
Our bespoke itineraries, lead guests intuitively towards less-explored destinations – cycling through ruins, meditating amid ancient forests, or cruising to the floating villages.
• Explore Angkor archaeological park, from the majestic temple of Angkor Wat to the stone carvings that testify to an exceptional civilisation.
• Discover the floating villages on the nearly Lake of Tonle Sap which offers insight into the rich culture of the region.
• Enjoy lunch, brunch or cocktails aboard Amansara's lake boat and discover the varied plant, fish and bird like that help make this vast inland lake one of Cambodia's most valuable ecosystems.
• Cycle through rice fields dotted with sugar palms and stilted wooden Khmer houses surrounded by fruit trees and overlooked by the Phnom Kulen hills in the distance.
• Receive a water blessing to cleanse your spirit at Wat Athvea, on the outskirts of Siem Reap.
• Early morning and late afternoon walks explore the temples surrounding Angkor Wat, including Ta Prohm, Preah Khan and Bayon.
• Delve deeper into the region's heritage by visiting lost jungle temples by helicopter, with landings at Banteay Chmar, Koh Ker, and Beng Mealea.

WHEN TO GO
 November – May; with the ideal months being Nov to Feb, with the tourist peak season in Dec and Jan.

TIME FRAME
We recommend 2 to 4 days to visit the temple of Siem Reap, and add a day or more to include Phnom Penh.

FLIGHTS
Bangkok, Singapore and Hong Kong are the main hubs used to fly into Cambodia.

hotels we love
Nothing but the best. Browse the hotels that may feature in your bespoke Cambodia itinerary.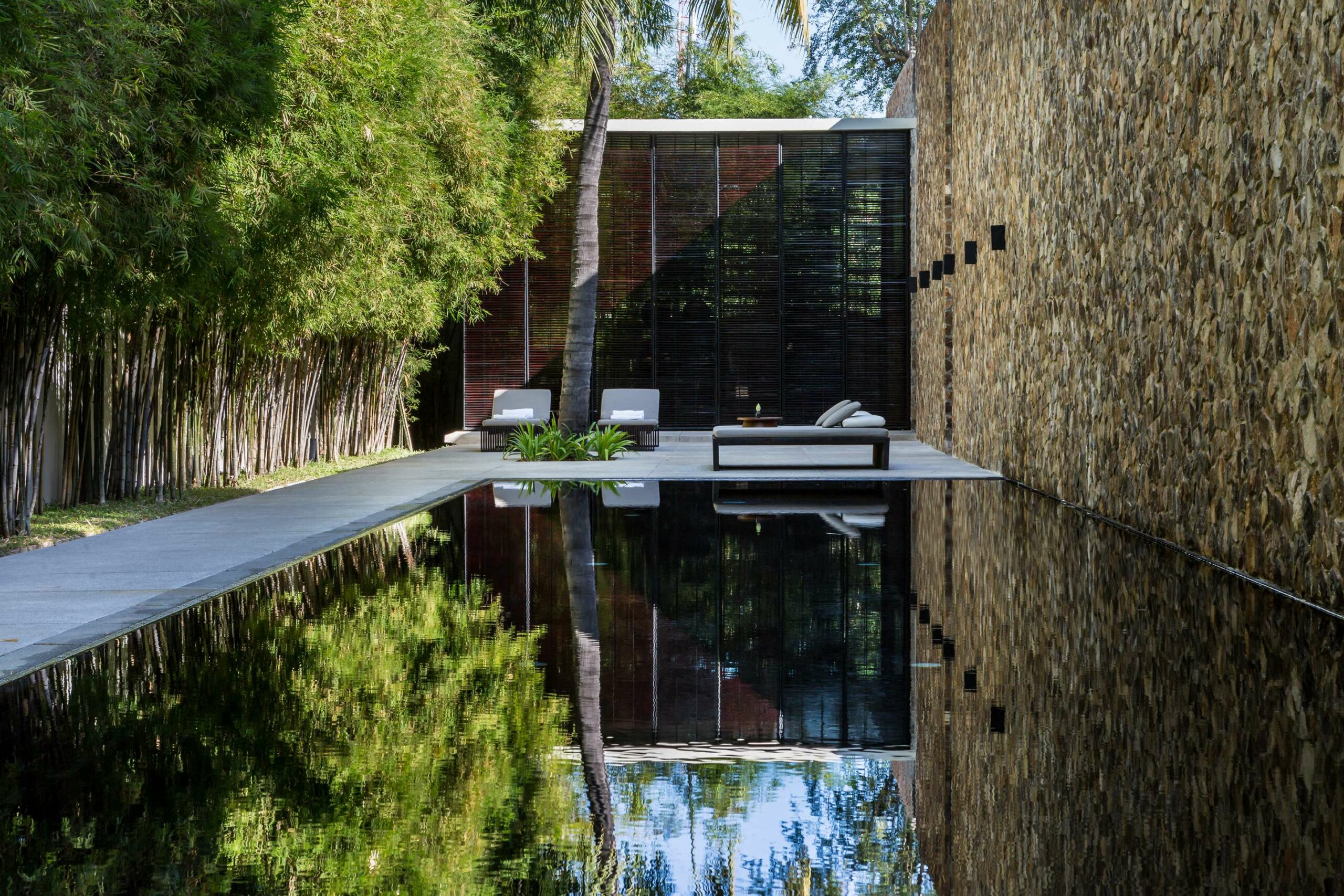 amansara
Once a residence for guests of the king, Amansara is a masterpiece of 1960's New Kmer architecture – an unabashedly modern style. A careful and sensitive restoration brought the building back to its former glory.  Visit the hotel website.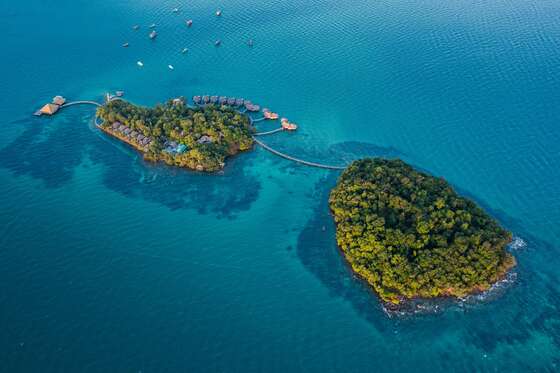 Song Saa Private Island
Served by direct flights from Siem Reap, Phnom Phenh, Ho Chi Minh City, Bangkok, and Kuala Lampor, the Cambodian south coast is no longer a remote destination. Estabilishing new standard fro sustainable luuxyr in Cmabodia, this intimate, all-inclusive resort includes jungle, ocean view, and overwater villas.  Visit the hotel website.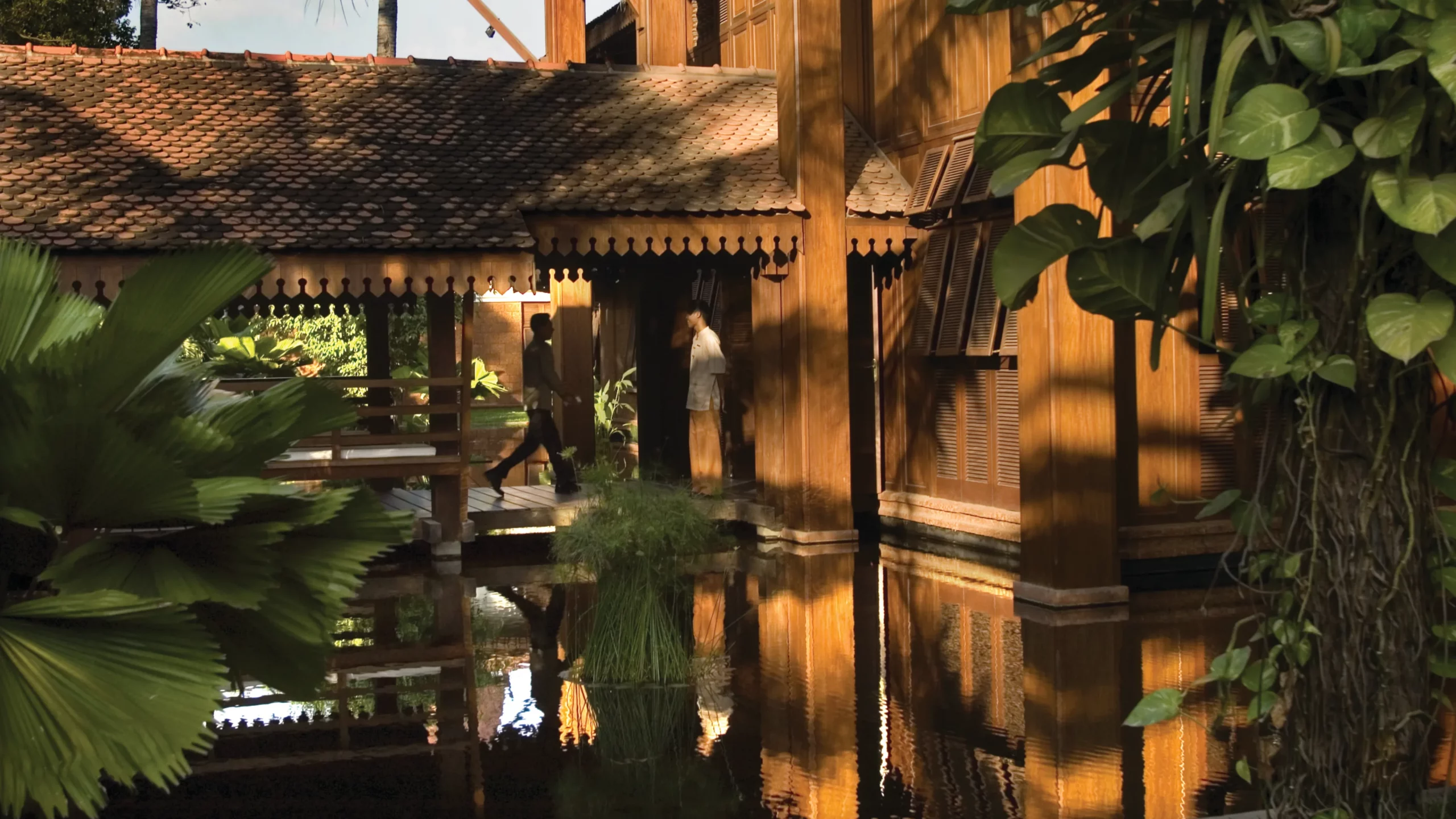 BELMOND LA RÉSIDENCE D'ANGKOR
A Khmer hideaway near fabled Angkor Wat, Belmond La Residence is a retreat, where ancient tradition meets contemporary style. One of the first luxury hotels to open in Siem Reap, the hotel boasts an enviable position away from the temple complexes.
experiences we love
We have booked many couples and families on this small luxury cruise ship, all with rave reviews.

AQUA MEKONG
Embark on a cultural odyssey through Cambodia and Vietnam aboard the finest of river cruise ships in Asia
The Aqua Mekong is the ultimate river safari. As the first 5 star luxury cruise ship to travel up and down between the Mekong River in Cambodia and the Mekong Delta in Vietnam, this unique cruise offers a rare opportunity for guests to explore. The vessel's 20 spacious, air-conditioned suites feature full-length windows that offer spectacular panoramas of the ever-changing Mekong scenery.  Get in touch, to start planning your journey today! Click here to view ship info & dates.
destination spotlight
Amansara, Angkor – Luxury Hotel & Resort in Cambodia