Antarctica
Antarctica. The 7th Continent. This is very likely the furthest you will ever be from home. It's an environment of incredible isolation – rich wildlife, stimulating history, and majestic topography. The beauty of Antarctica is unlike anywhere else on earth. It reaches a level of beauty that is unmatched in its simplicity, flawlessness and fragility. It is magical place that has the capacity to move people. 'This place will change you, if you're open to it". Your voyage at the bottom of the world will yield unparalleled adventures in every sense of the word …

ANTARCTICA Highlights
Have you ever wondered what do people actually do when they go to Antarctica? Isn't it just a bunch of ice? While the white continent does have a lot of ice and snow – it's an adventure junkie's paradise. There are so many cool things to do in Antarctica, here are a few:
• Kayak Among Icebergs
• Wildlife Watching
• Camping Under the Stars
• Visit Polar Stations
• Snowshoeing, Hiking and Mountaineering
• Stand Up Paddleboarding (SUP)
• Expedition Photography
• The Polar Plunge
CURRENCY
NONE. USD, GBP & EUR ACCEPTED.

Featured expeditions
IN PARTNERSHIP WITH OUR FRIENDS AT QUARK EXPEDITIONS

Almost entirely covered by a thick layer of ice and the coldest continent on the planet, it nevertheless is home to a fascinating ecosystem including penguins, blue whales, orcas, colossal squid, fur seals and birds. The landscapes are incredible – silent and vast – and all this can be appreciated from a variety of comfortable ships which cruise from the southern tip of Argentina to this immense wilderness. Time is spent both on land (accessed by small boats from your ship) and at sea, with expert guides to ensure you get the most out of your trip.
The Antarctic Peninsula
 10 or 12 days 
Antarctica has been inspiring explorers for centuries. This expedition offers you the chance to discover why, with an unforgettable journey through the spectacular wilderness of the South Shetland Islands & Antarctic Peninsula. Encounter a world where nature creates the rules, her unpredictable temperament making each trip unique, exciting and personal.
Falklands, South Georgia and Antarctica: Explorers & Kings
20 days
This expedition encompasses the wildlife paradise of South Georgia, the remote Falkland Islands (Islas Malvinas), and also the extraordinary beauty of the Antarctic Peninsula. You will enjoy unforgettable encounters with untamed wildlife in a vast, dramatic and spectacular setting.

Antarctic Express: Fly the Drake
8 days

You're ready to explore King George Island and the Antarctic Peninsula—and no Drake Passage crossings are required! With a spectacular aerial view, included charter flights between Punta Arenas and Antarctica have you experiencing the majesty of the 7th continent before transferring you to your ship in no time.
EXPERT TIP
"Skip the turbulent waters of the Beagle Channel and opt for a fly-cruise of Antarctica, giving you more time on the frozen continent."
NOTES FROM THE ROAD…

The majestic beauty of Antarctica cannot be compared to anywhere else on this Earth. There really is nothing like the feeling of setting eyes on landscapes that very few humans have ever seen, listening to the grumblings of thousand-meter-thick glaciers as they power their way down steep coasting mountainsides, or sharing a snowy beach with an endless colony of charismatic penguins. Inducing a mystic state of awe the otherworldly silence of these regions is only briefly disturbed by the cracking of a glacier or the breath of a humpback whale. Standing on Salisbury Plain, on the island of South Georgia, you are deafened by King Penguins squawking in numbers up to 500,000 strong. Now, after my journey there, If I was given the opportunity to visit any place on Earth, just once, the choice would be easy – the island of South Georgia. Having only recently returned, there are no words to say how much I loved the majestic beauty of Antarctica. A truly extraordinary experience that I will carry with me for the rest of my life.

To find out how YOU can visit Antarctica, please call us at 647.269.1929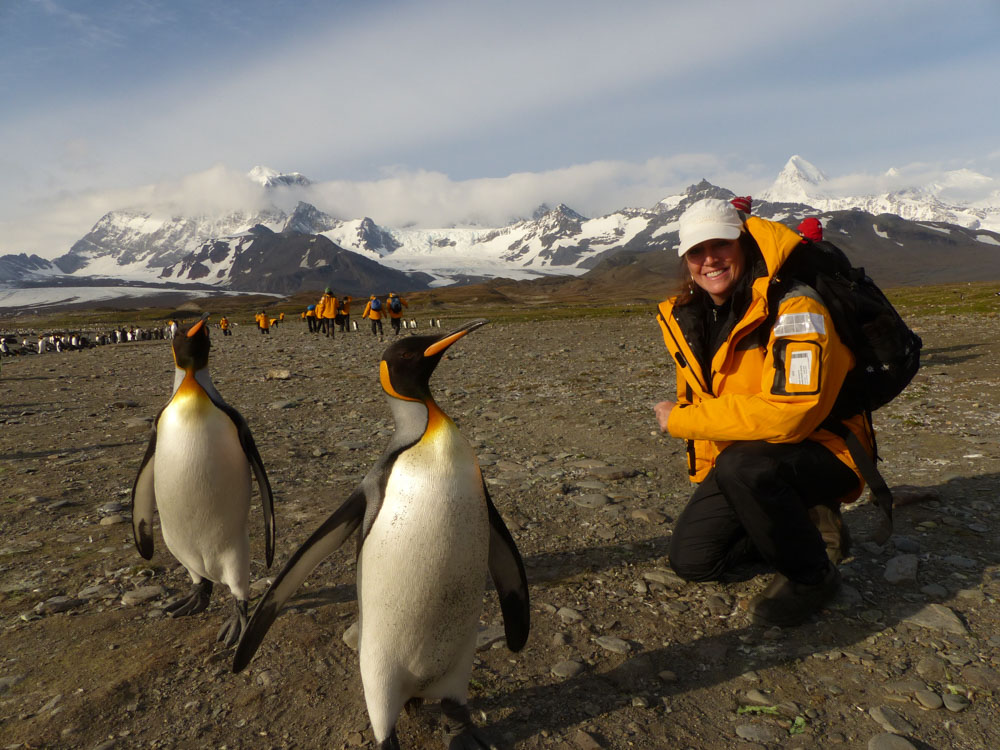 Marie-France spent 20 days on expedition in Antarctica which encompassed the wildlife paradise of South Georgia, the remote Falkland Islands (Islas Malvinas), and also the extraordinary beauty of the Antarctic Peninsula.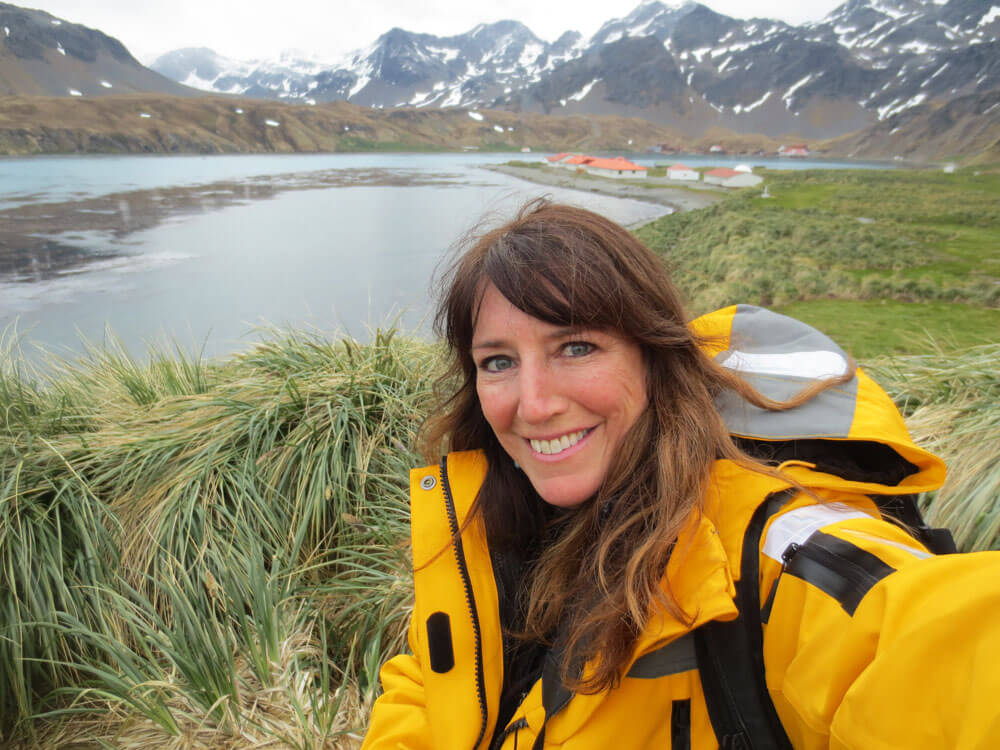 Start planning! We look forward to getting started on your bespoke Antarctica itinerary.
an extraordinary LUXURY holiday in ANTARCTICA.
tailored to you.
EXTEND YOUR JOURNEY

Explore Iguazu falls, spend a few night in Ushuaia or add a few nights before or after your cruise in beautiful Buenos Aires.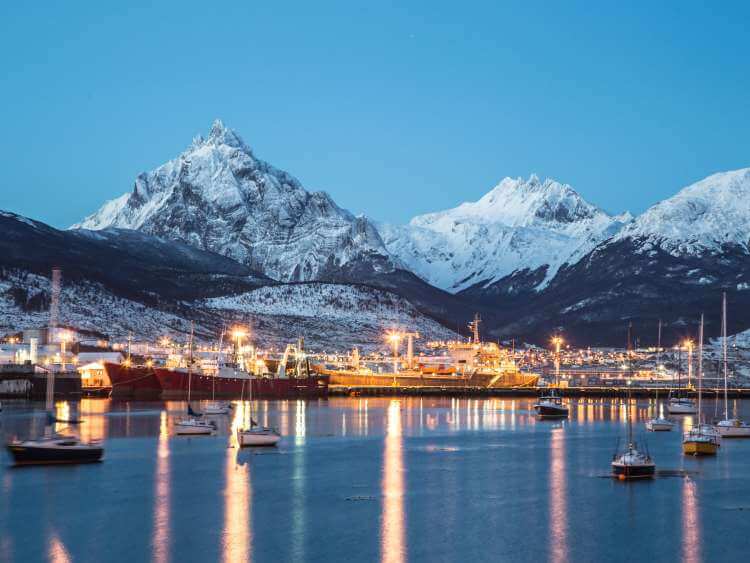 IGUAZU FALLS pre-tour EXTENSION
Discover Iguazu Falls, visiting both the Argentine and Brazilian sides of one of South America's greatest natural wonders.
Ushuaia Post trip extension
Explore the Southern Andes, venturing off-road at Fagnano Lake and cruising to Gable Island for forested hikes.
Buenos aires - pre or post
Explore cosmopolitan Buenos Aires and its various barrios – each with their own unique character.