SRI LANKA
The teardrop shaped island of Sri Lanka lies in the Indian Ocean just off the southern tip of India. With its golden sandy beaches, azure blue waters and warm tropical climate, Sri Lanka is a year-round destination for travelers seeking sun, sand and sea. The island has a rich cultural heritage that dates back to over 2,000 years which is linked to the origins of Buddhism in the country with magnificently constructed stupas and the ruin remains of ancient kingdoms. You can stay on a tea plantation, immerse yourself in Buddhism at temples scattered throughout or visit historic colonial towns such as Galle.

Sri lanka Highlights
Below are a few top experiences that may feature in your bespoke Sri Lanka itinerary.
• Explore the ancient city of Anuradhapura
• Take safari excursions through Yala National Park in search of the elusive leopard and iconic Sri Lankan elephants.
• Go on a guided jeep safari to Minneriya National Park to see 'The Gathering of Elephants'.
• Visit the local markets in Kandy and witness the Pooja ceremony at Kandy's Temple of the Sacred Tooth Relic.
• Climb the Sigiriya Rock Fortress.
• Scenic train journey from Kandy to Hatton.
• Walk around the Dutch built Galle Fort on a private tour.
• Accommodation in a collection of unique luxury boutique properties.
• Savour a "Tea Experience' with a resident planter.
• Spoil yourself with a spa experience at one of the many luxury resorts.
IDEAL LENGTH
We recommend visiting for 2 weeks to include beach, some time in the famed Cultural Triangle, and at the National Parks.

kandy | galle |  the cultural triangle | the highlands & tea country | south coast

hotels we love



Nothing but the best. Browse from the list below to see hotels that can feature in your bespoke Sri Lanka itinerary.
Amanwella reigns above a tranquil beach between two rocky headlands. Serene and stylish, this is a tropical paradise — be as active or as lazy as you wish. Commune with giant turtles, snorkel and visit protected elephant herds in nearby national parks, and remember to take time to curl up in your ocean-view suite with its floor-to-ceiling windows, plunge pool and terrace; everything was designed with your utmost pleasure in mind. Visit the hotel website.
uga residence, Colombo
Nestled between leafy the Park Street and the lakeside temple of Gangarama, one of Colombo's principal Buddhist shrines, the Residence is a unique boutique hotel in the heart of Sri Lanka's capital city. Built in the 18th century, it is one of the few remaining buildings of its kind in Colombo. Originally a family home, Today, the Residence is a luxurious 11-suite city.
ceylon tea trails
Ceylon Tea Trails is the world's first tea bungalow resort, perched at an altitude of 1250 metres in Sri Lanka's panoramic Ceylon tea region, bordering the UNESCO World Heritage Central Highlands. Tea Trails is Sri Lanka's first Relais & Chateaux resort. This award winning boutique resort comprises luxurious colonial era tea planters' bungalows, connected by walking trails through beautiful Ceylon tea gardens.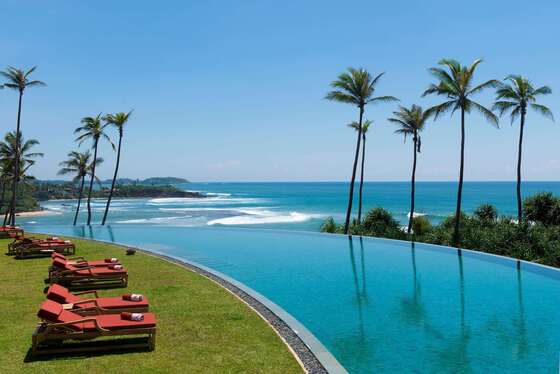 cape weligama
Cape Weligama is Sri Lanka's newest luxury resort, 30 minutes east of Galle on the southern coast. It is home to a gorgeous collection of 40 free-standing villas and suites. Views of the Indian Ocean and rugged coastline are celebrated from every curvaceous corner of this meticulously landscaped property, perched on a cliff top rising up above the sea. Visit the hotel website.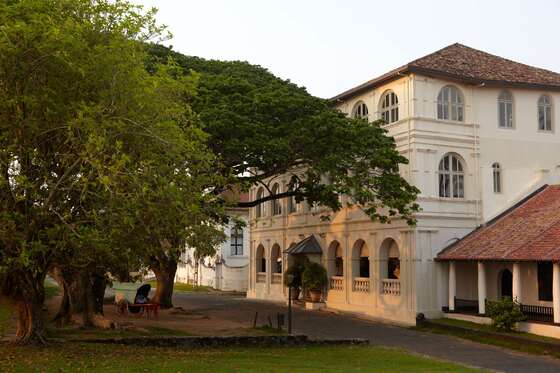 Amangalla, set in the ramparts of Galle Fort, welcomes those who relish in the chance to relive history. An easy walk through the historic fort has you taking in the Old Dutch Church, spice warehouses, the lighthouse and Court Square. Return to your home base, for its swimming pool and its rejuvenating Baths spa therapies. Visit the hotel website.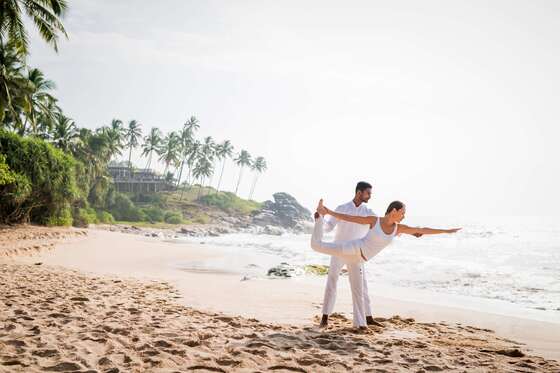 anantara peace haven tangalle resort
Anantara Peace Haven TangalleResort. Landscaped terraces lead down to golden sands at this former coconut plantation, nestled within a tiny bay along Sri Lanka's southern coast. The 120 rooms and 32 villas provide a sanctuary with inspired touches like rattan furnishings and batik fabrics. Visit the hotel website.
ulagalla resort
Ulagalla Resort is located on a sprawling 58-acre estate in Thirapanne. This luxurious eco-retreat is nestled among two sparkling reservoirs, lush green paddy lands and lily ponds. The chalets all offer glass-walled panoramic views of the scenic, unspoiled, natural paradise filled with bird and animal life. Each chalet has its own deck and secluded private plunge pool, making it a destination in itself.
the last house
Tangalle's Mawella Bay is one of the south coast Sri Lanka's last remaining undeveloped beaches, and this six-bedroom beach house, designed by Geoffrey Bawa, one of Sri Lanka's most revered architects, is its perfect match: tranquil, relaxed and colorful. It fosters a personal atmosphere, and can comfortably accommodate up to 14 guests. Oh, did we mention also, that the food is super.
camellia hills
Located in the heart of Sri Lanka's tea country, Camellia Hills is a gorgeous boutique tea planter's bungalow, nestled on flourishing tea plantation, near Dickoya an Hatton. Offering three Lakeview Bedrooms and two Camellia Bedrooms, all incredibly cosy and inviting, with features such as fans to enjoy during the heat of the day, stunning decor or walnut wood floors and beautiful teak furniture with sensational views! Visit the hotel website.
destination spotlight
Ceylon Tea trails, sri lanka



Pairs well with...
We recommend combining two sensational tropical destinations, Sri Lanka and Maldives.
Call us so we can help you create a personalized journey for you.