SOUTH AFRICA
Situated at the tip of the African continent and surrounded by two oceans, South Africa boasts breathtaking scenery, quaint coastal villages and cosmopolitan cities. In one trip to South Africa, you can stand in the desert, climb a mountain and relax on a sandy beach backed by tropical forest. Add to this, a truly exhilarating Big Five South African safari, some of the best wine in the world, and a fascinating cultural heritage to discover and you have a destination that is perfect for the entire family.

SOUTH AFRICA highlights
• Spend a few days exploring the stunning city of Cape Town
• Stand in Mandela's cell on Robben Island
• Toast the sunset from the flat top of Table Mountain – one of the most spiritual places on earth.
•Visit the gently rolling green vineyards blanketing the Franschhoek and Stellenbosch valleys to sample the food and wines of the Winelands.
• Between June and October, travel to Hermanus where the cliffs drop steeply into the the ocean, and the whales come to within 30 metres from the shore.
•Spot the Big Five in Kruger National Park which offers outstanding South African safari.
•Safari in Sabi Sands Private Game Reserve where you have the greatest likelihood of seeing leopard in South Africa.
Discover the empty beaches of the remote and wild Elephant Coast. Between December and February if you want to catch a glimpse of the turtles making their annual migration to nest on the beaches.
mount nelson, a belmond hotel, Cape town
Cape Town, Western Cape, South Africa  Cape Town's iconic resort hotel is a tranquil hideaway just moments from the city's buzzing heart. Enjoy imaginative cuisine in our restaurants and soothing bliss at the spa. Just beyond our gates lies the pulsating city, with stunning beaches and historic hotspots. Visit the hotel website.
cape grace hotel
Cape Town, South Africa  Cape Grace is Cape Town's most exquisite and stylish hideaway. Set on a private quay in the historic Victoria & Alfred Waterfront, the hotel takes inspiration from the city's rich cultural heritage. Double-glazed French doors open to Table Mountain or harbor views from each room.  Visit the hotel website.
ellerman house
Cape Town, South Africa  Situated in the heart of Bantry Bay, the Ellerman House, Member of Relais & Châteaux, is an elegant mansion just ten minutes away from the city center and within walking distance of Clifton and Camps Bay beaches. Visit the hotel website.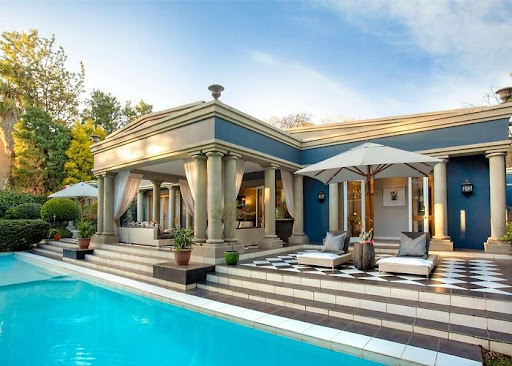 Fairlawns boutique hotel & spa
Johannesburg, South Africa  With exceptional service, Fairlawns creates an intimate atmosphere where some of the globe's most vibrant personalities converge. The 41 suites are decorated in varying themes ranging from Eastern influence to French provincial. Visit the hotel website.
one&only cape town
Cape Town, South Africa One&Only Cape Town rises seven stories above the marina and offers sublime views of Table Mountain from its prime waterfront location. One&Only Spa is located on a private island in the middle of the waterway, as are 40 one- and two-bedroom Island Suites. Visit the hotel website.
silo hotel
Cape Town's V&A Waterfront, South AfricaThe family-owned Silo Hotel hits all the high notes. This former grain elevator has been re-imagined as a work of art in its own right, with 18-foot-high pillowed windows that glow like beacons over the V&A Waterfront. Visit the hotel website.
la residence
Franschhoek, Western Cape, South AfricaSet in South Africa's wine country, amid tranquil vineyards and against a majestic mountain backdrop, La Residence is an extraordinary retreat designed in the style of a French country manor. Swing open the terrace doors of your suite and admire mountain views. Dine alfresco on the rose terrace. Visit the hotel website.
Le quartier francais
Franschhoek, Western Cape, South Africa  The intimate, boutique-style Le Quartier Français is all about personal indulgences. The hotel offers a prime Franschhoek winelands valley location, stunning accommodations (including a villa) and the delights of world-renowned cuisine. Visit the hotel website.
grande provence
Franschhoek, South AfricaGrande Provence Estate wears her 300-year history with dignity. Sitting in the magnificent Franschhoek Valley in South Africa's Western Cape, her lush vines spread across 47-acres with gentle vistas over the valley floor, with the rugged mountains beyond. This is heartland South African wine country at its finest. Visit the hotel website.
mont rochelle
Franschhoek, South Africa  Sir Richard Branson's love for the African continent lured him to the Western Cape Province and Mont Rochelle. Guests can unwind exploring the rolling vineyards in one of the world's most bucolic settings. The 26 bedrooms are bright and airy and many have private terraces or balconies. Visit the hotel website.
strandloper oCean lodge
Paternoster, Cape Town & The Western Cape, South Africa.  Looking for an unspoiled ocean getaway? The Strandloper Ocean Hotel, one of our favourite little finds in South Africa, is an airy seaside escape that exudes beachy minimalism. The 14 rooms are a fusion of beach style and contemporary luxury and each has its own terrace or private courtyard that open out onto breathtaking views. Paternoster is a seafood and lobster Mecca and the hotel creates inspired cuisine with a local and organic slant. Visit the hotel website.
a birkenhead house
Hermanus, Garden Route, South Africa.  Perched on a cliff top in Hermanus, Birkenhead House provides a haven of luxury for those travelling along the Garden Route. This boutique hotel offers 11 beautiful rooms and accommodates guests in the utmost luxury. Hermanus is also well-known as being one of the best places on the Western Cape for whale watching in season. It is often possible to sit on the terrace and watch the whales in the sea in front of Birkenhead House. Visit the hotel website.
bartholomeus Klip farmhouse
Riebeek Valley near Cape Town Bartholomeus Klip is a restored Victorian homestead on a wheat and sheep farm, an hour and a half's drive from Cape Town. The main farmhouse has only four luxury rooms and a suite, so exclusivity is guaranteed. Highlights of a stay are game drives through the nature reserve. Visit the hotel website.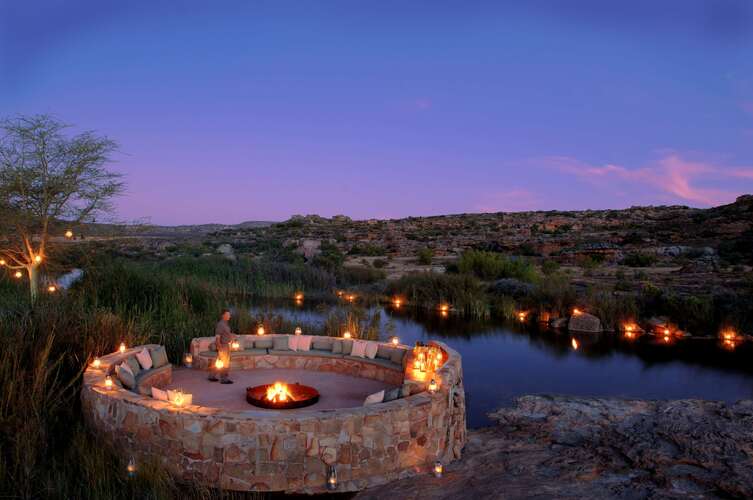 bushmans kloof
Clanwilliam, Western Cape, South AfricaInhale the tranquillity of this award-winning lodge, only 168 miles from Cape Town. Surrounded by timeless beauty that exudes a mystical energy, the reserve offers a wilderness experience of healing and well-being. A sanctuary to more than 130 Bushman rock art sites, the retreat allows guests to interact freely with nature and participate in exhilarating outdoor adventures. Visit the hotel website.
What Our clients Are Saying
Don't just take it from us, let our clients do the talking!
"We made it to our camp in Botswana. Already encountered as we were driving to our camp, a leopard, baboons, African Buffalo's, jackal, impalas,….Had a wonderful dinner, fish for me and game meat for Marc with a sky full of stars. Five star dining. Great wines, Porto for dessert and Amarula to complete our evening."
"After a few more amazing trips you've planned for us and just back from Morocco, it's time to update this review. Actually, not much has changed. You're still a 5 star trip planner and, if anything, it's even more apparent now how much you care about researching amazing places for us to go, things for us to do and hotels for us to stay at. These trips are definitely not "run of the mill" and you put so much work into making sure they're perfect for us and not cookie cutter trips. You care about making sure we're absolutely happy with everything, available to help while we're traveling and do a wonderful job. Please keep it up! We can't wait for our next trip.made it to our camp in."
"Our trip to Morocco was great and definitely exceeded my expectations. All the hotels were fabulous and the staff extremely helpful. The Branson retreat (Kabash Tamadot, Atlas Mountains) was amazing! I'd go back there in a flash. It was my favourite part of the trip. I always recommend you to friends and will be in touch again soon, to plan our next adventure."
"We are so lucky to have had this extraordinary adventure on the other side of the globe Africa. Thank you to Marie-France Gravel of Bespoke Travel Design, for planning this trip of a lifetime for us!"
Looking to extend your trip?
A holiday or safari in South Africa combines well with beach time in Mozambique or Mauritius, or safari in neighboring Botswana or Namibia.