Europe
Europe, with its incredible diversity of landscape, culture and cuisine, is the perfect canvass to create any traveler's dream trip. No cookie-cutter approach here. With your private guide and driver, journey north from the hustle-bustle of Rome into the beautiful vineyards of sunny Provence. Or soak up centuries of history in the Scottish highlands, then bed down in a romantic stone castle. In Iceland, prepare for geothermal adventures. Hike into an area alive with hot springs and bubbling mud pools, then relax in a warm river. Whether you want to savor award-winning artisanal cheese, travel in style in a vintage car, skip past museum crowds for a private guided visit or linger on a balcony overlooking thousands of years of history, we will assist in delivering the experience you've imagined. As for families? Ask us about our tailor-made trips in France, the UK, Croatia and Italy – which are all great destinations for the perfect multi-generational vacations. With private experiences—custom tailored your way, at your pace—let Bespoke Travel Design create your unforgettable European journey.
England
Time Traveling
Castles, Trains, and Film Tours Offer Old World Charm
Discover historic homes and castles clustered around the United Kingdom's countryside. Many, like Windsor Castle, the fortress of Conwy and the ruins of Tintagel open for tours, while others operate as hotels. Fans of period dramas like Pride and Prejudice and Downton Abbey can book tours focusing on film locations, from Bath to Berkshire. Watch the scenery unfold from a train, whether it's a modern carriage or old-fashioned steam service.
Moveable Feast
Wine and Dine Your Way through the French Countryside
With more than 600 Michelin-starred restaurants and nearly two million acres of vineyards, France is a mecca for food and wine lovers. If you can tear yourself away from the table, you can tour the wineries of Bordeaux by bicycle, float over the fields of Champagne in a hot-air balloon, cruise the Riviera in a yacht, or view the luxurious chateaux of the Loire Valley on a riverboat.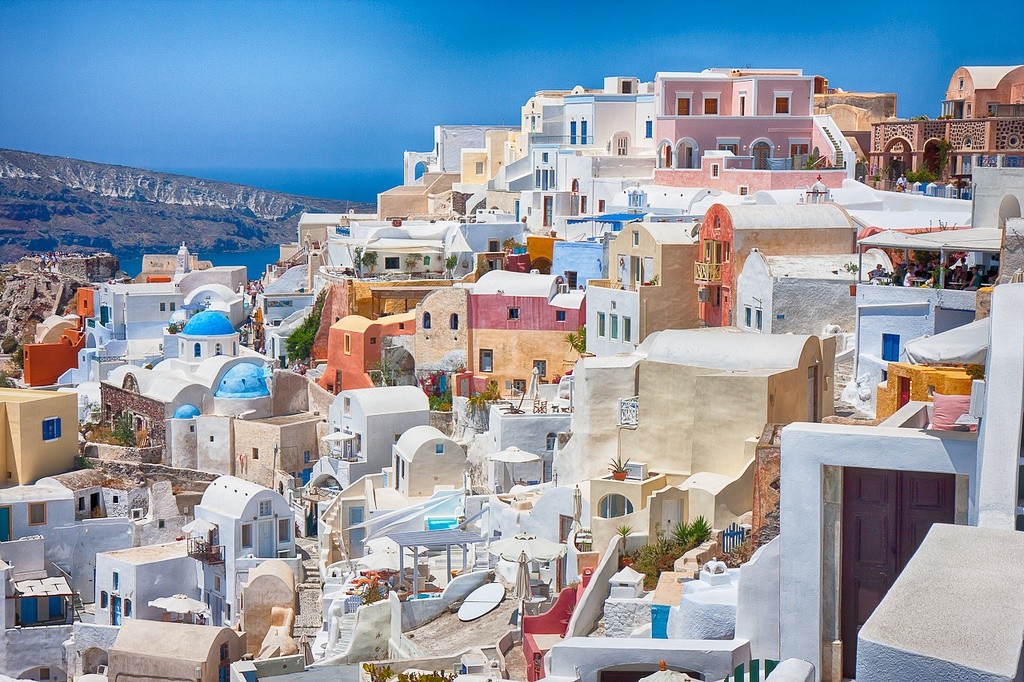 Greek Life
Ancient Mythology and Modern-Day Delights
The musky scent of oregano and sage carried on the breeze. The faint throb of an outboard engine, slipping over the horizon. These are the flavours, smells and sounds of Greece, a land of plenty, simplicity, and infinite variety. You'll love the sun-drenched islands, whitewashed towns, and a mythic past that just won't quit. Enjoy the whitewashed dwellings of Mykonos, the historic ruins in Athens, the sun-soaked cafes on Crete, and the famous views on Santorini.
Fire and Ice
Play it Cool or Heat it Up with Glaciers and Volcanoes
As the name implies, Iceland has plenty of ice. With 4,500 miles of glacier, there's ample opportunity for guided hikes and ice climbs. It's also home to the Þríhnúkagígur crater, offering the chance to enter a magma chamber big enough to fit the Statue of Liberty. For an overview of Iceland's diversity, visit Vatnajökull National Park, the largest in Europe, where you'll find more glaciers, the Öræfajökull volcano, and Iceland's tallest peak.
Emerald Isle
Beyond Dublin Castles, Cliffs, and Dazzling Coast
Drive the Ring of Kerry for memorable views of mountains and sea, and experience the stony isolation of the Burren, a vast limestone plateau. Brace yourself atop the windy 700-foot Cliffs of Moher, and walk among 60-million-year-old stone columns on Giant's Causeway. Sleep like a king at a castle hotel, and visit the atmospheric ruins of Blarney Castle. Legend holds that if you plant a pucker on the Blarney Stone, you'll receive the gift of gab.
La Dolce Vita
Italian Splendor
Italy embodies the sweet life and satiates the appetite. Feed your passion for authentic regional cuisine, which varies by region, and feast your eyes on Roman ruins and art by masters like Michelangelo and Leonardo Da Vinci. From the cobblestone streets of Florence to the postcard perfect Tuscan hills, the unrivaled Amalfi Coast to the dramatic Dolomites; the Venetian canals to the stunning beauty of Lake Como and Lake Garda – Italy is pure magic.
Port in a Storm
Fabled Libations, Rich Culture, & Stunning Terrain
Portugal's Douro Valley vineyards have served as the center of the port-wine industry for 400 years. But look beyond the bottom of your glass to discover the cliffs and beaches of the Algarve, the waterfalls and lakes of Peneda-Geres National Park, the gorges and peaks of Madeira, and the maze-like Moorish alleys of Lisbon. Feast on traditional salted codfish, or ply waters teaming with sea bass, grouper, and salmon for your own fresh catch.
scotland
Castles and Kilts
Swinging your clubs and sipping the world's best whiskey …
Savor the pleasures of castles and kilts, craggy cliffs and Celtic legends on a customized tour of Scotland. With your private guide and driver, experience the rugged beauty of the Highlands, and stunningly beautiful Skye where heather-wrapped hills rise up into the mists. If you're a golfer, swing your clubs on legendary courses like St-Andrews, or Gleneagles, where the world's best come to play for challenging fairways and stunning views. Then sip and taste your way through the famed Scotch distilleries.
Tapas Tour
Spain Offers a Taste of Everything You Love
Can't agree on a romantic escape? Consider Spain, which serves up a remarkably varied menu of attractions. For wineries, head to La Rioja. If you crave a castle, visit Grenada's Alhambra or Castillo de Loarre in the foothills of the Pyrenees. The Balaeric and Canary Islands boast beautiful beaches, the Cazorla National Park abounds with waterfalls, and cities like Seville, Toledo and Barcelona are renowned for distinctive architecture.

Learn more >
an extraordinary holiday.
tailored to you.
capture your travel memories
with an exclusive offer on a fun, candid photo shoot.

book a photo shoot through us, and you'll receive 20% extra photos, and a code for a free 8×10 print.