panama
Arriving in Panama, it's hard not to feel like you've stumbled upon a secret the rest of the world has yet to discover. With fascinating history, beautifully bohemian towns and breath-taking scenery Panama has it all. Spend a few nights in a boutique hotel on the Pacific coast, stilted bungalows suspended over turquoise waters, a turn of the century mansion in the heart of Panama's buzzing capital or in lodge on a tropical island, surrounded by untouched forest.

panama city | bocas del toro  | san blas islands | pacific coast Beaches

Panama Highlights
Panama has all you need for an incredible, action packed luxury holiday:
• Visit the ruins of old Panama, climb up the cathedral town, visit the old Panama museum and explore nearby town of Balboa.
• Visit the Biomuseo – designed by world-renowned architect Frank Gehry, to find out how the Isthmus of Panama rose from the sea, changing the planet's biodiversity forever.   Take a flight to David and visit the beautiful mountain town of Boquette.
• Visit a coffee plantation to discover the whole coffee making process.
• Hiking and birding tour to experience the unspoiled cloud forest and discover exotic flora and fauna, beautiful birdlife.
• Spend a few days in the San Blas Islands, in the pristine Archipelago which includes picture-perfect tropical islands with white sand and coconut trees.
• Travel to the Bocas del Toro archipelago on Panama's north Caribbean coast, one of most bio-diverse places on earth.
• Explore the Zapatilla caves which offers the ultimate snorkelling and scuba diving experience in the Caribbean.
• Explore both land and sea with a picnic on a deserted island.
CLIMATE
Tropical maritime climate
Top Hotels in Panama

Nothing but the best. Browse the hotels that can feature in your bespoke Panama itinerary.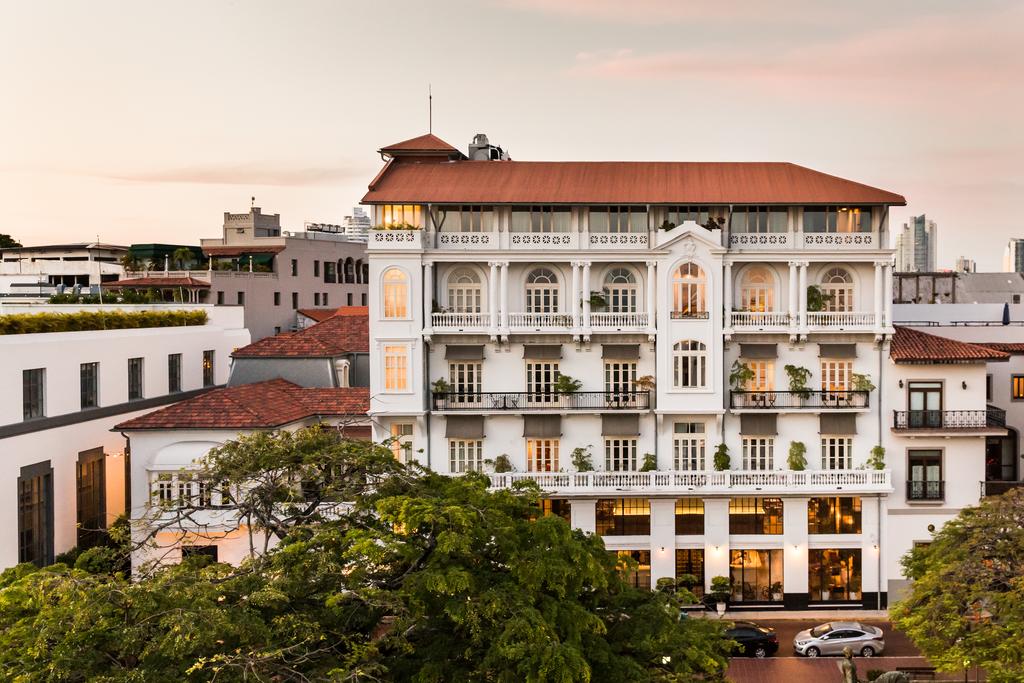 american trade hotel
Opened in 2013, the American Trade Hotel is the newest property in Panama City's Unesco-listed Casco Viejo and one of the best hotel options in the city. This glamorous, upscale hotel in a landmark building has an excellent restaurant, cozy library cool coffee shop, and a jazz club with live music on weekends, making it a popular destination with North American jetsetters. It is one of the few hotels in the Casco Viejo with a rooftop pool, which provides an urban oasis feel. Our favourite room is the Jardin room with your own private courtyard. View the hotel website.
el otro lado
Deep in the remote setting of Portobelo Bay, El Otro Lado lies on Panama's Caribbean coast. This small, exclusive retreat is beautifully conceived: the villas and houses are set amid lush jungle, pristine beaches, the range of services on offer is extraordinary given the remote location, and the food is some of the best in Panana. There are also countless options to explore the national park and the kaleidoscopic coral reefs surrounding the hotel. View the hotel website.
coral lodge
Coral Lodge is a beautiful and unique eco-lodge located on the mainland that borders the stunning San Blas archipelago – an idyllic group of over 400 palm-fringed islands ringed by white-sand beaches and surrounded by the clear turquoise waters of the Caribbean Sea. Visit the hotel website.
las clementinas
Located in the centre of Panama City's old quarter, and within walking distance from Panama's most important landmarks, Las Clementinas is situated in one of the city's most iconic apartment buildings, originally built in 1930. After an extensive restoration, Las Clementinas reopened as a luxury boutique hotel, and offers exclusive, spacious accommodation in an elegant, relaxed atmosphere. Visit the hotel website.
Casa del Horno
Located only 5km's from the city center, and 10 minutes from the airport, the Casa Del Horno is an elegant 4-star hotel with 8 beautiful rooms, some with cathedral view. A dishwasher and a stove are also provided for self-catering. Guests can enjoy a meal in Bistro Boquete and Cafe & Cacao, which are located in a business area, about 5 minutes' walk from Casa Del Horno Hotel. View the hotel website.
isla palenque
"Palenque" means refuge or sanctuary, and that's exactly what travelers will find on Isla Palenque, a 400 acre private island retreat just off of Panama's northern Pacific coast. Only 5% of the island has been carefully & sustainably developed so guests at Isla Palenque will find plenty of serenity and seclusion. Accommodations include just eight gorgeous beachfront casitas and a six bedroom villa perfect for families or groups of friends. Visit the hotel website.
Sweet Boca Private Island - Bocas del Toro
In the Caribbean Sea, off the coast of northern Panama, is a well kept secret – a private island for intimate gatherings and authentic experiences. Here, guests will experience the sweet balance between conscious travel and absolute luxury. From consciously curated furnishings, to a state of the art self sustaining farm and greenhouse, all offerings throughout the Sweet Bocas experience are meant to give back in a larger, more meaningful fashion: servicing people, initiatives, and organizations that are making the world a better place.  Visit the hotel website.
What Our travelers Are Saying
Don't just take it from us, let our clients do the talking!
Hi Marie-France,
We're having a great time in Panama. Our tour guide Raul is great and he was even able to get us a photo op with the President, Juan Carlos Varela!