Andalucia
Like the paintings of Andalucia's famed native son, Pablo Picasso, this region is vivid, bold and occasionally overwhelming. The region offers a unique flavor of authentic Spanish culture: Granada's gorgeous Alhambra, Seville's mosques and bullfighting rings, and whitewashed World Heritage sites. The region also has great beaches on both the Mediterranean Sea and the Atlantic Ocean and a calendar of fantastic festivals.

Top Locations in Andalucia 
Granada | Seville | Cordoba
Andalucia Highlights
Discover magnificent Andalusia and its three sparkling jewels – Seville, Cordoba, and Granada with special experiences in Ronda.
• Unravel the secrets of Andalusian culture, with a private cooking class, and a traditional flamenco show.
• While in Cordoba, take a private tour of the  spellbinding Mezquita palace and UNESCO-listed old tour.
• In Granada, enjoy a private tour the mystical Alhambra palace – a UNESCO World Heritage site, and one of the world's most beautiful architectural marvels.
• Hike in the hills of Ronda, the gorgeous city that inspired Hemingway during his time in Spain. And do an amazing winery visit in Ronda.
• White-washed villages.
• Private off the beaten path tour of Seville, including insiders art restorers private home and studio visit in Seville.
• Tapas Tour and/or Cooking Class.
• Flamenco uncovered – accompanied by a real gypsy flamenco musician.
• Private Off the Beaten Path Tour of Seville.
• Excursion to Cordoba (with option of private horse exhibition).
Hotels we love
Nothing but the best. Browse our handpicked, tried and tested Spain hotels.
hacienda de San rafael
The award winning Hacienda de San Rafael, once a thriving olive estate, handed down from three generations, has been meticulously restored and converted into a luxury hideaway. The hotel is still a working farm, with fields of olives, wheat, cotton and sunflowers. Visit the hotel website.
Corral del rey, seville (top pick!)
Located in the centre of Seville in the old quarter of Barrio Alfalfa has been meticulously restored and converted into a small private luxury boutique hotel, offering chic accommodation with a relaxed roof top bar and one of the best places to view the old town.  Visit the hotel website.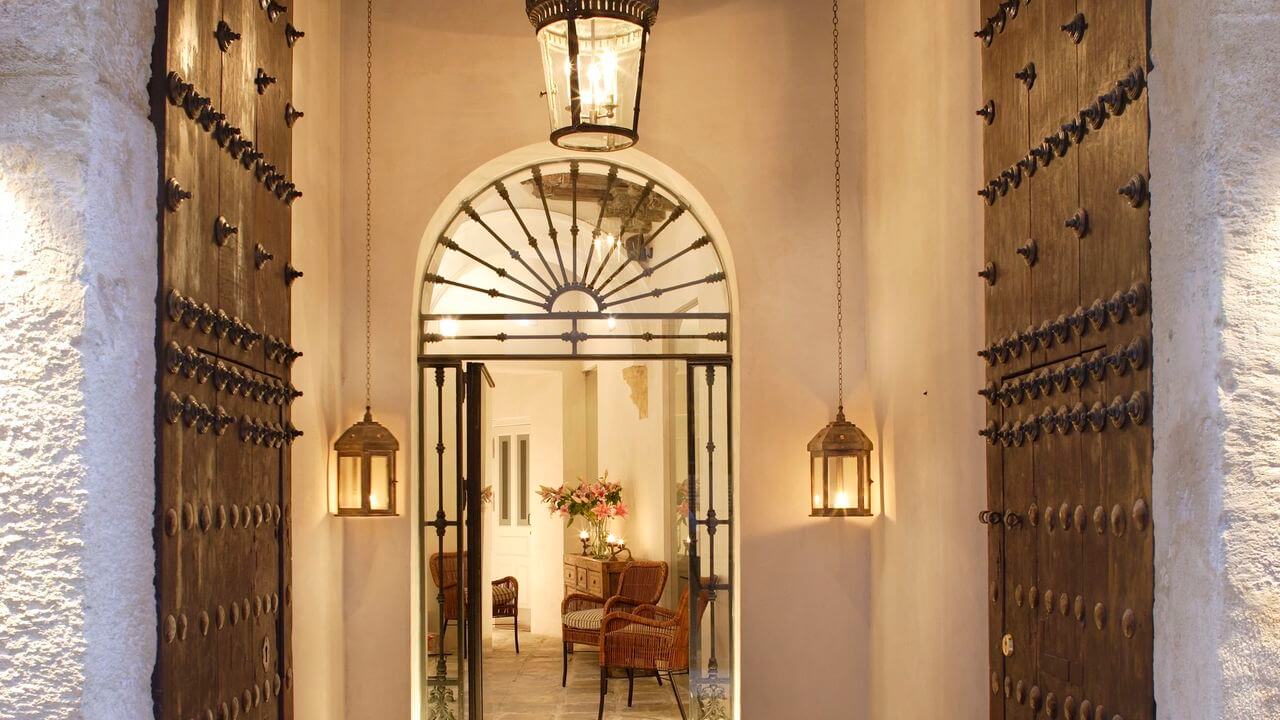 HISTORICAL SIGHTS
Our recommendations include: Royal Alcazar Cathedral, Casa de Pilaots, Iglesia del Salvador, Palacio Lebrija, Ronda bullring, Palacio Campo Real, Palacio Virrey Laserna …
restaurants & tapas bars

Good tapas aren't too difficult to find in Seville. Our favourite restaurants include: El Rinconcillo, La trasatienda, La Moneda, Casa Moreno,  Taberna Manolo Cateca, La Azotea, Casa Roman, and El Contenedor, to name a few…
Flamenco class
Seville is synonymous with Flamenco dancing, a physical expression of the multitude of cultures that have passed through Andalusia over the centuries. Visit the escuela and take a masterclass with Christina Hoyos herself, a world-renown performer and founder of the Museo de Flamenco. Christina is a pro at teaching the moves and more importantly, the full spectrum of human emotion—rage, passion, joy—that is the lifeblood of the dance.
NIGHTLIFE
Casa de la Memoria offers a world class flamenco performance including singing, dancing and guitar playing by some of the best young talent, such as Pastora Galvan, among others awarded "Best National Flamenco Dancer".
where to shop



Populart, 17th and 18th century Andalucian ceramics and earthenware, Maquedanos Sombreros, the finest Andalucian sombreros, Antik, ethnic textiles and lovely antique jewellery.
Contact us to see how we can customize a trip just for you.
an extraordinary holiday to spain.
tailored to you.