PARIS
Paris is the undisputed epicenter of French culture, and perhaps the most romantic city in the world. The City of Light hosts many of Europe's most iconic sights, including the Eiffel Tower, Notre Dame Cathedral, the Arc de Triomphe, and the tree-lined Champs-Elysées. Museums here are legendary and showcase centuries of art and history. Works by Monet, Picasso, Renoir, and van Gogh can be found on display throughout the city, and each stunning collection is just as worthy of a visit as the massive Louvre.
Paris Highlights
Below are a few of our favourite experiences that can feature in your bespoke Paris itinerary, and will make the most of your stay in beautiful Paris.
• Have a drink at La Palett, a lovely café/bar in the 6th (43 rue de Seine)—this is where all the Beaux Arts students used to go.
• Buy macaroons from La Duree on the Champs-Elysées in the 8th (75 av des Champs- Elysées). Pierre Herme is world famous for his macaroons and the 20+ flavours. A feast for the eyes and the taste buds, they are great gifts and travel well.
• Have lunch at L'Entrecote in the 8th (15 rue Marbeuf). It is a set menu of steak with special (secret) pepper sauce and the BEST French fries ever. There will be long queue but it's worth the wait.
• Listen to a concert at La Sainte Chapelle in the 1st (4 blvd du Palais). It's a gorgeous setting for Classical music, but you need to arrive early to get tickets.
• If you're looking for last-minute tickets for concerts or other cultural events, check out the kiosk at Place Madeleine in the 8th. And if you want to know what's going on during your visit, buy a Pariscope Magazine from any newsstand. It lists every type of event and cultural venue in the city, from concerts in churches to the plethora of museums and art galleries.
• Have dinner at Le Fumoir in the 1st (6 rue Amiral de Coligny)—cool décor and fun crowds.
• Have a drink before at Le Marly, a café overlooking the Cour du Louvre. It is stunning at night with its courtyard lit up.
• Enjoy a cup of tea at Mariage Freres 6th (13, rue des Grands Augustins), perfect for afternoon tea and beautiful objects for the home. Don't miss the famous Mariage Freres candles (my favourite Darjeeling).
• My favourite museums (other then the Louvre are Orsay) are Picasso in the 3rd, Marmotan (a relatively unknown Monet museum) in the 16th, Institut de Monde Arabe in the 5th, and Nissim de Camando in the 18th.
• During the summer months (up until the end of September), grab an ice-cream from Berthion (famous artisanal ice-cream) on rue St Louis (Ile St Louis) and walk along the Quays.
• If you are looking for a fun English bookstore, Shakespeare & Co in the 5th (5 rue Bucherie) has been the haunts of readers and writers for generations—Hemingway used to hang out here.
• Another super bistrot in the 11th is Chez Paul (13 rue Charonne). It is becoming a bit touristy, but it's still worth if for its Plat du Jour.
• For a more upscale dining experience, consider Senderens in the 8th (9 pl Madeleine), a more casual restaurant from former 3-star Michelin chef Alain Senderens. Reservations are required.
• If you like gardens and parks, the Botanical Gardens and Jardins du Luxembourg are musts. In the Botanical Gardens, pop into the Mosque de Paris and have a mint tea in the courtyard—you'll feel like you are in Morocco.
• Ask your hotel for the closest marché
(local market); every neighbourhood in Paris has one in various locations on different days of the week. This is how most Parisians get their food—buying it fresh in small quantities every couple of days. For lunch, pick up cheese, bread, tomatoes, veggies and wine, and head out for a picnic.
HOTELS WE LOVE
Nothing but the best. Browse the hotels that can feature in your bespoke Paris itinerary.

Shangri-La paris
The historic Shangri-La Paris, once home to Prince Roland Bonaparte, has received Palace status as one of France's finest hotels. Choose from 101 rooms, including 36 suites, many with a private balcony and breathtaking views of the Eiffel Tower and the hotel's private garden. Three gourmet restaurants offer unique styles: Visit La Bauhinia for casual fare, dine on Cantonese dishes at Michelin-star Shang Palace and enjoy fine French cuisine at Michelin-star L'Abeille.  Visit the hotel website.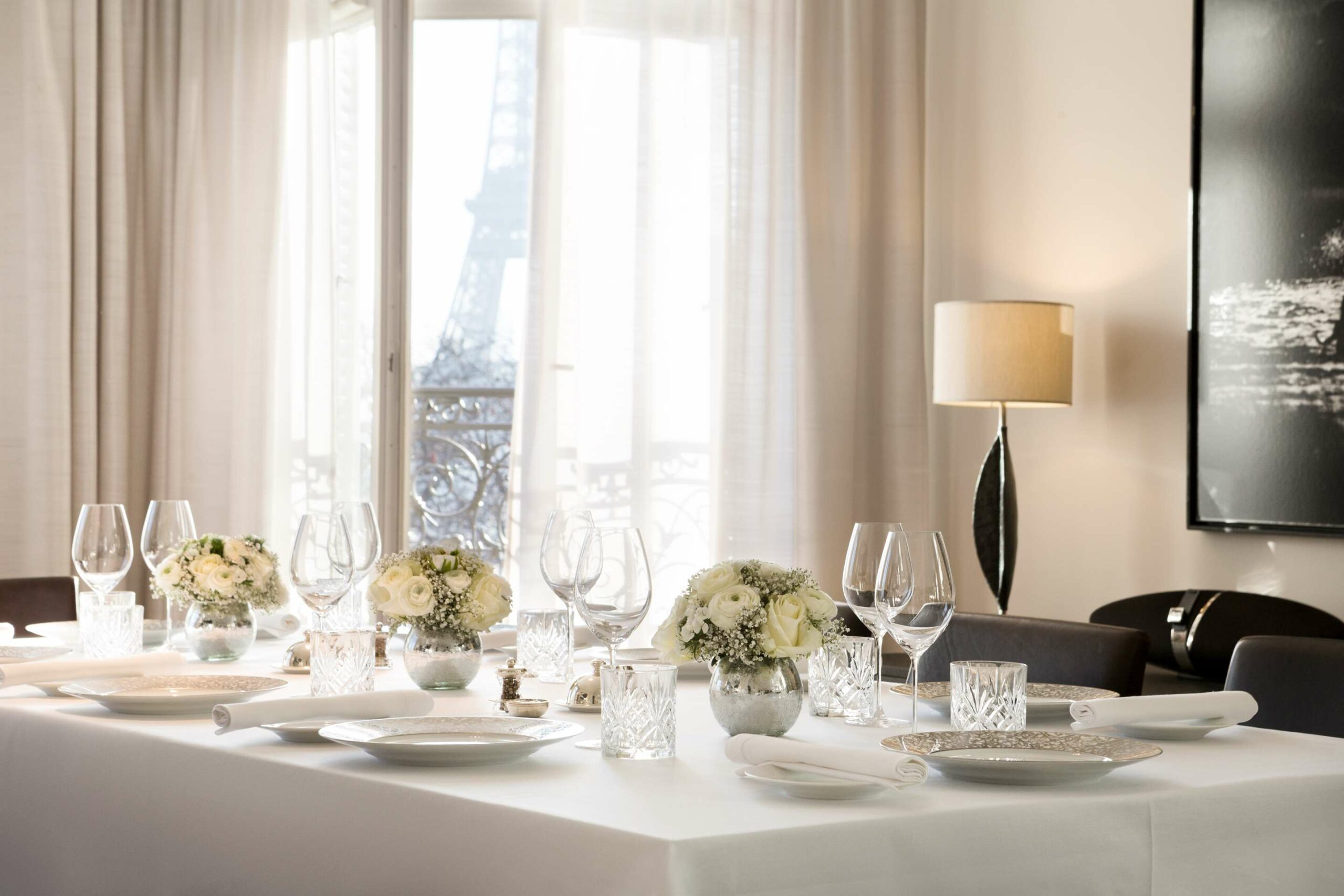 la reserve paris apartments
These are spectacular apartments at La Reserve Paris, making this hideaway a truly unique place to stay in teh City of Light. Guests enjoy all the services of a dedicated personal housekeeper and concierges, room service, private chef, a relaxing massage, and a car with driver. It's an easy walk to the Eiffel Tower, as well as the many boutiques and in teh sixteenth arrondissement. La Reserve is awash in a palette of beige and black, complemented by soraing ceilings and huge windows, offering stunning Eiffel Tower views.  A private bar and butler service are also at your disposal. Visit the hotel website.

Ritz paris
Located on Place Vendôme, the Ritz Paris, is the epitome of glitz and glam; a place where dreams come to life. The Michelin-star restaurants La Table and Les Jardins de L'Espadon set a course through high gastronomy, while the Bar Vendôme brasserie and the bistronomique Ritz Bar invite guests to savor dishes at any hour of the day. The Salon Proust, near the fireplace, is the place to enjoy teatime à la française. And no visit to the Ritz would be complete without stopping by the Bar Hemingway where night after night, Colin Field, the Chef Barman extraordinaire, reinvents the magic of midnight in Paris. Visit the hotel website.

Four seasons hotel george V paris
An art-deco landmark built in 1928, Four Seasons Hotel George V is nestled in the Golden Triangle of Paris, just off the historic Champs-Elysees. The redecorated suites transport guests into luxurious Parisian apartments while numerous terraces boast stunning views of the City of Lights. Overflowing with spectacular floral arrangements, the marble courtyard offers a haven of light where guests can dine at Le Cinq***, Le George* or L'Orangerie*, the Palace being the first in Europe to offer five Michelin stars across three restaurants – and home to some of the best food in France.  Visit the hotel website and ask us about our complimentary Four Seasons Preferred Partner perks and amenities.

Le Meurice
Le Meurice is situated in a prized location between Place de la Concorde and the Louvre, along the chic rue de Rivoli. The views of the Tuileries Garden will have you coming back night after night. Choose one of the sumptuous suites: each floor has a distinct style, and all boast the luxurious amenities you have come to expect. One of the many highlights of your stay will be dining at two-Michelin-star Restaurant le Meurice Alain Ducasse. 

Mandarin oriental, paris
Mandarin Oriental, Paris is a celebration of Paris today, inspired by fashion and artistic creativity. This truly Parisian five-star hotel provides an oasis of tranquility and a cocoon of luxury. The hotel's best-kept secret is its inner garden both a sanctuary and a peaceful culinary haven. Celebrated Chef Thierry Marx oversees all dining, including two-Michelin-stars Sur Mesure.  Visit the hotel website.

le Royal monceau- raffles paris
Just steps from the Champs-Élysées and Arc de Triomphe, Le Royal Monceau, Raffles Paris is the epitome of Parisian elegance. With a 99-seat screening room, a private art gallery and Paris's first dedicated Art Concierge, this palace is enlivened by art and culture. Two restaurants, Matsuhisa Paris by world-renowned Chef Nobu Matsuhisa, and an Michelin-star Italian restaurant; and unique creations by Pierre Hermé, the "Picasso of Pastry." Visit the hotel website.
Hotel Esprit saint Germain
Hotel Esprit Saint Germain has been designed along the lines of a private residence, on the Left Bank. This very Parisian, very intimate and warm 5* boutique hotel, has been stunningly designed with real loving care put into each of its 28 rooms and lounge. Clients are welcomed as if they were guests in a friend's home with a personalized and dedicated service, enjoying complimentary drinks anytime during their stay sitting in the living room by the fireplace. It is just what you imagine a French hotel should look like. Visit the hotel website.
Insider tip – Paris Like a Local: Laurence Tafanel's favourite places.
Hotel Plaza Athénée
Since opening in 1913, Hotel Plaza Athénée has been the choice of celebrities wishing to experience the energy and elegance of Paris. Ideally located a few steps from the Arc de Triomphe and the Eiffel Tower, the hotel features 208 guestrooms, including 54 suites with views looking out on Avenue Montaigne with a view of the Eiffel Tower, or looking out on La Cour Jardin.  Each of the five restaurants & the bar are overseen by Chef Alain Ducasse.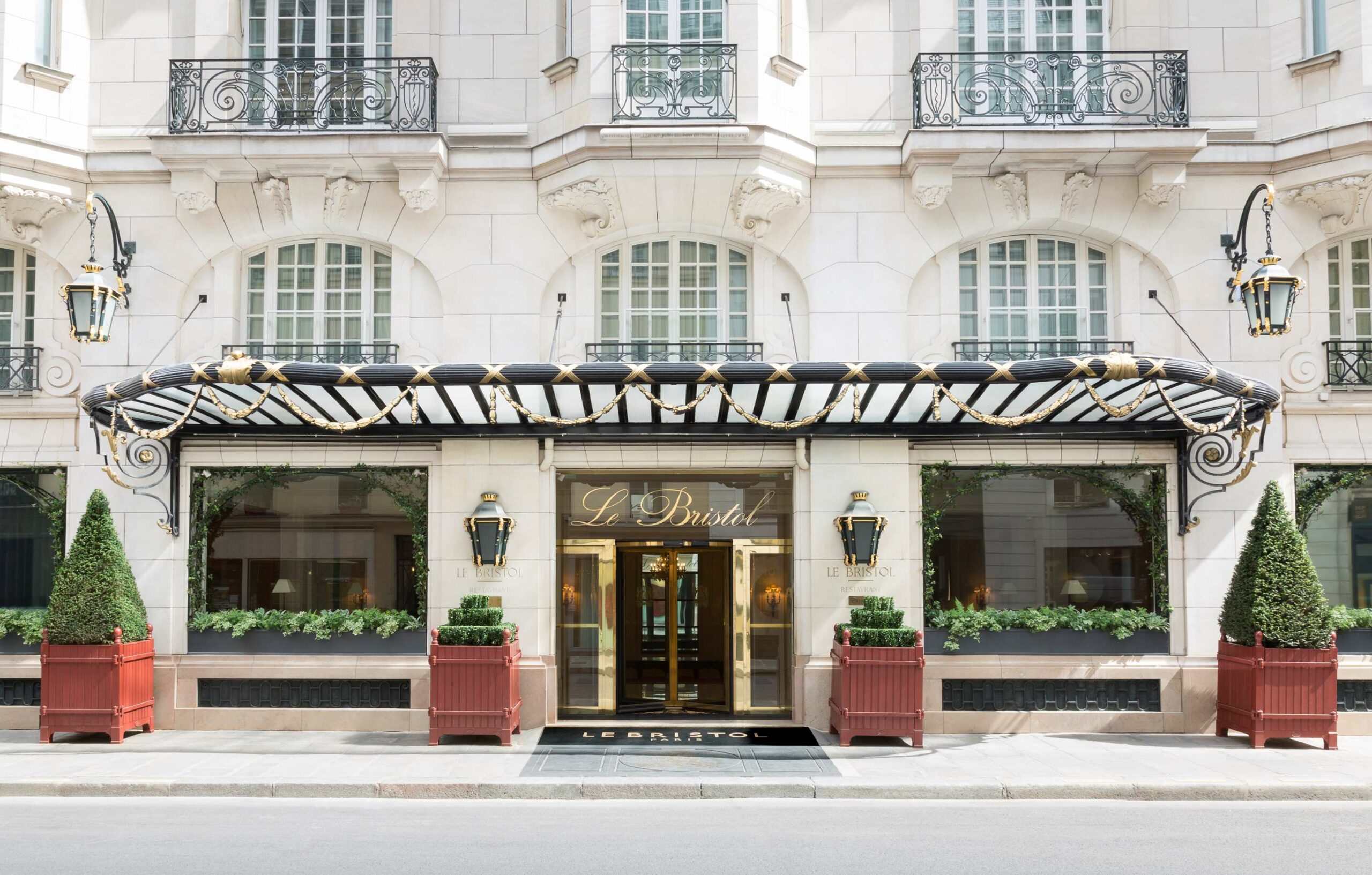 Le Bristol Paris, oetker collection
An icon of french elegenace and joie de vivre. Le Bristol Parisis located at one of the city's most prestigious addresses on rue du Faubourg Saint-Honore. The first to receive France's "Palace" distinction, the hotel boasts 190 rooms and suites – among the largest renovated. An exceptional setting offering Oetker Collection's legendary hospitality.  Visit the hotel website.
an extraordinary holiday.
tailored to you.